Sharing Activities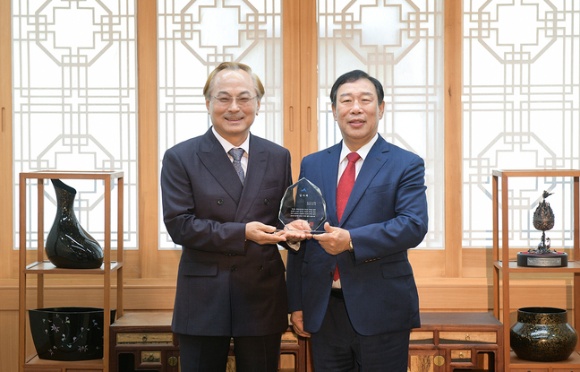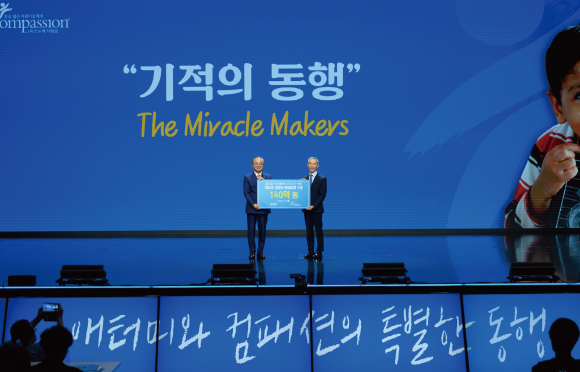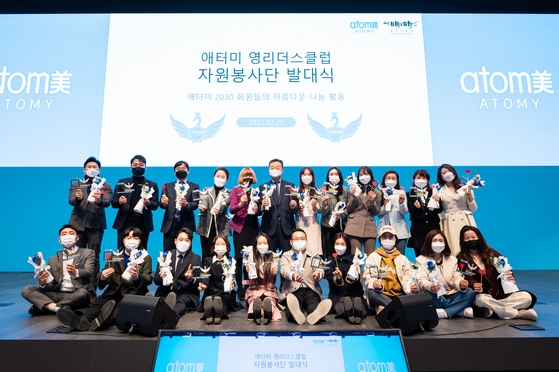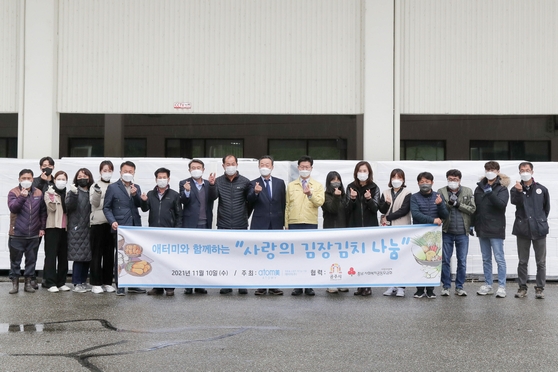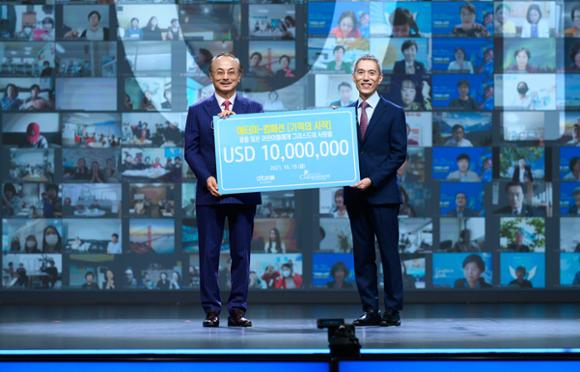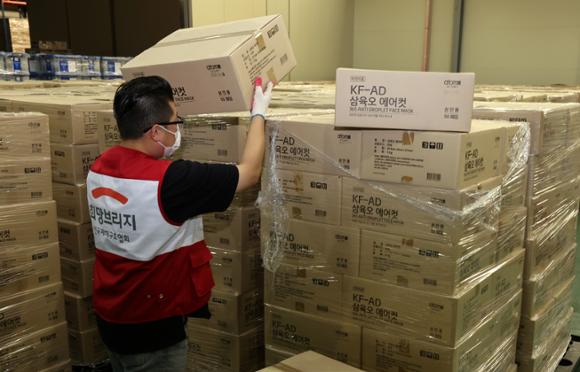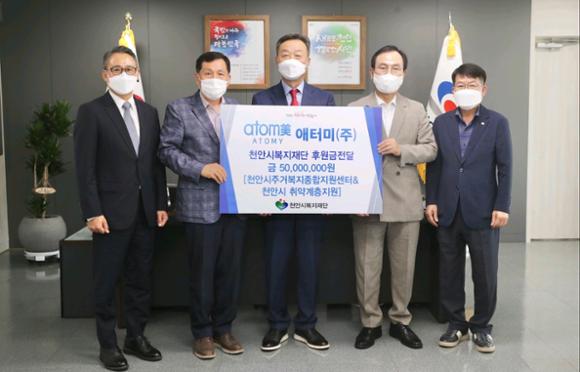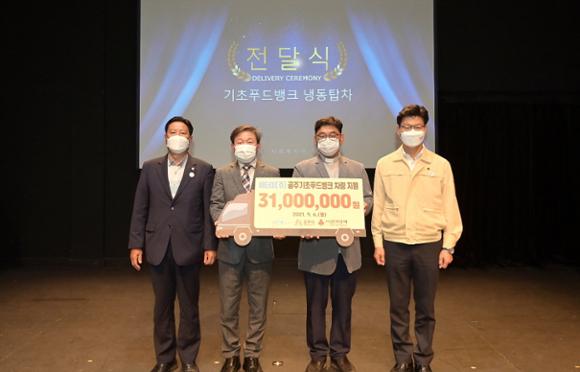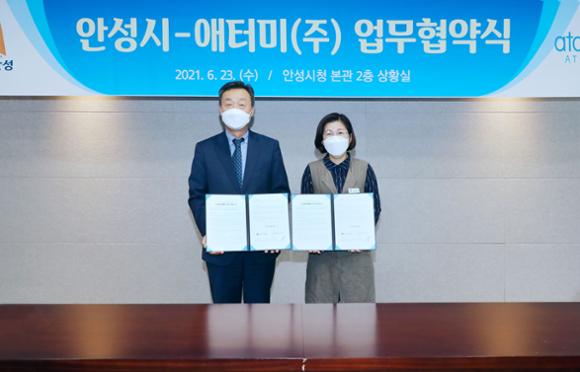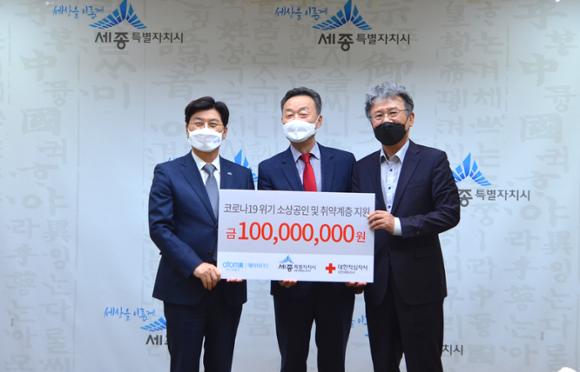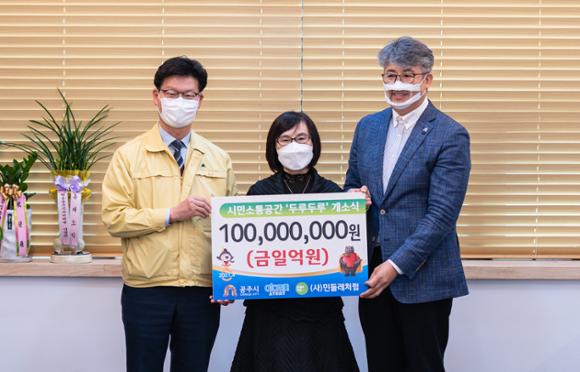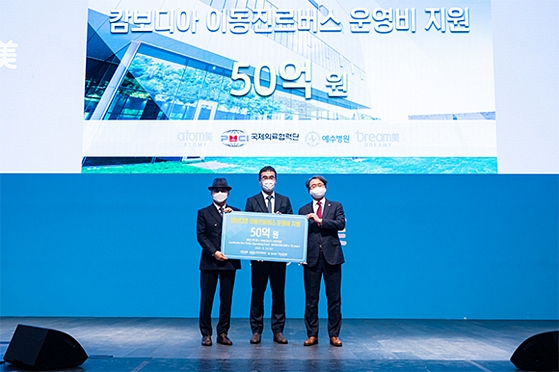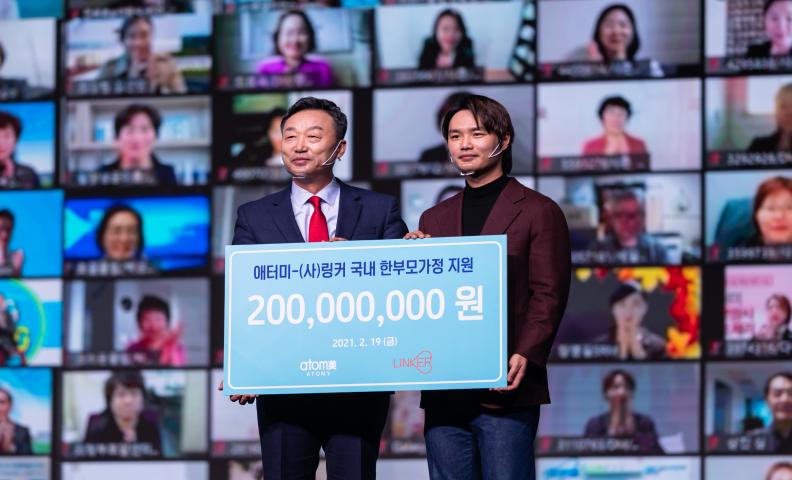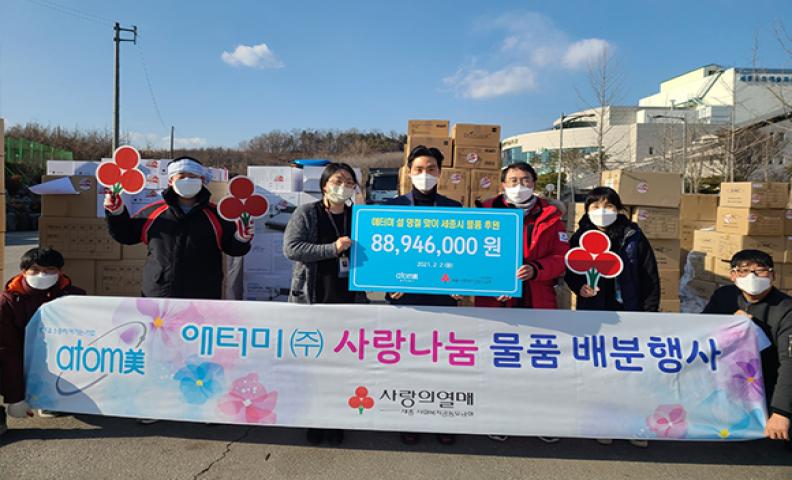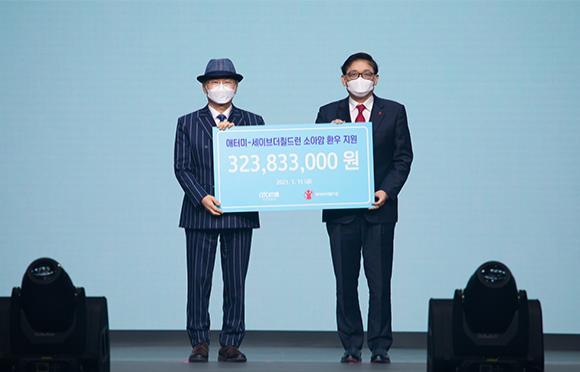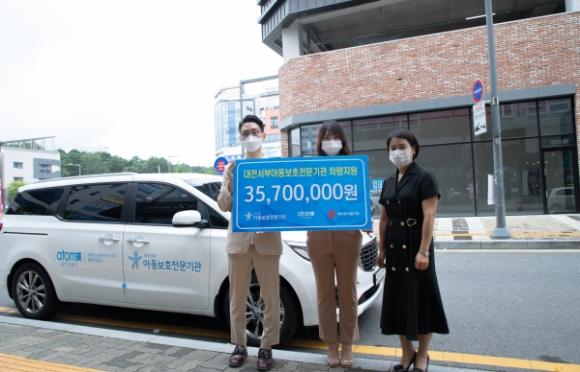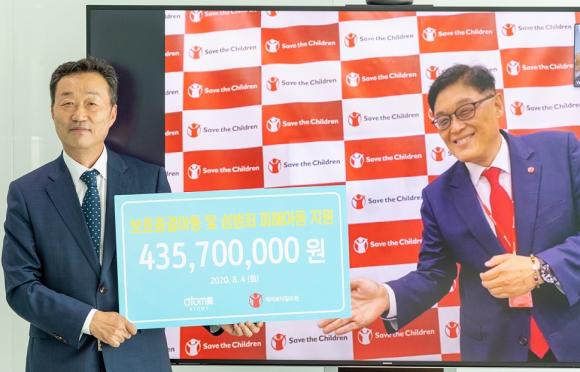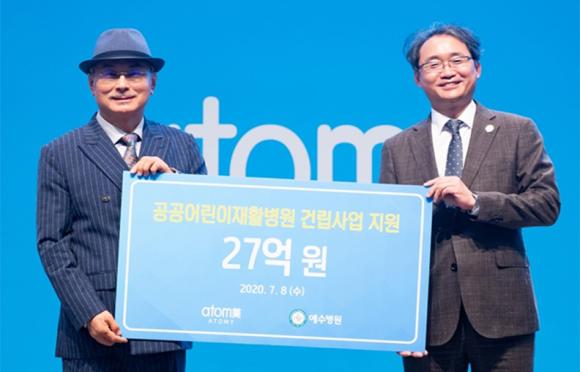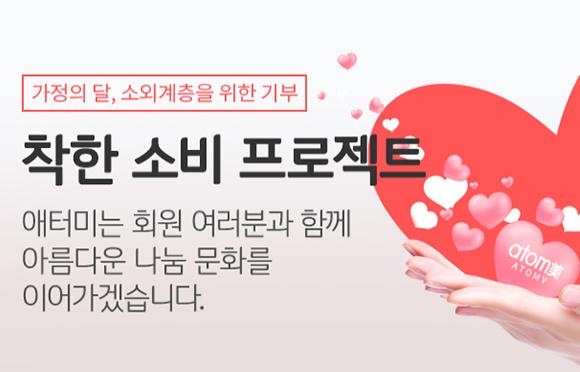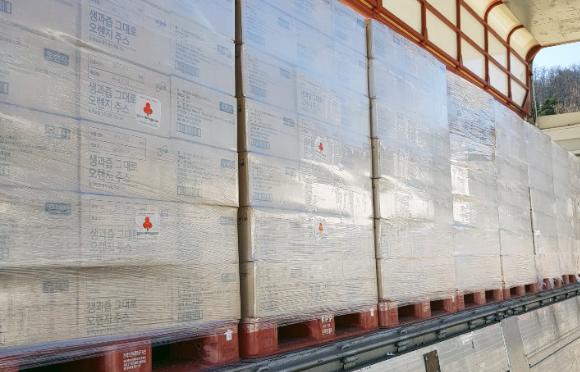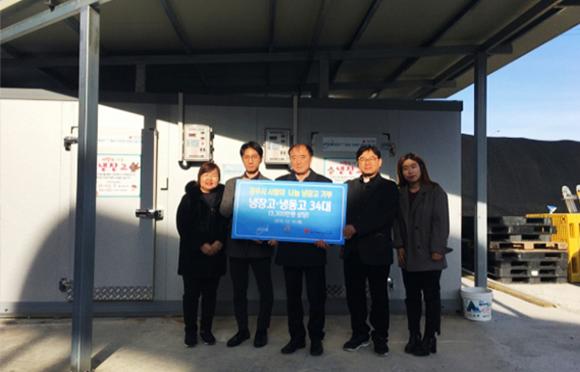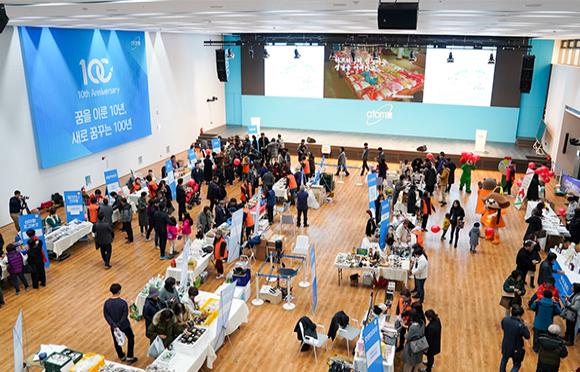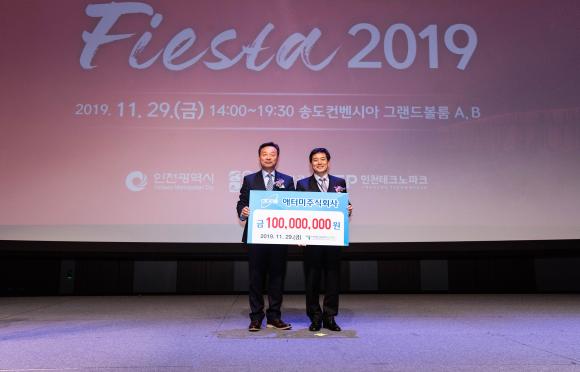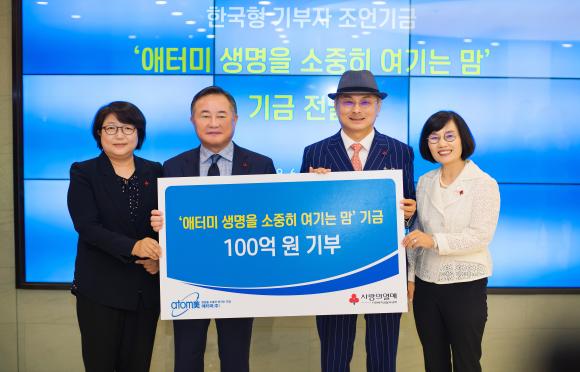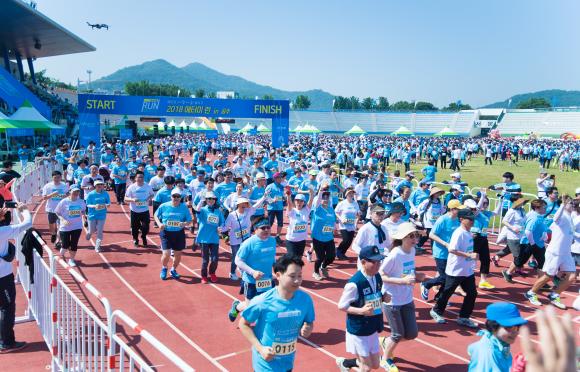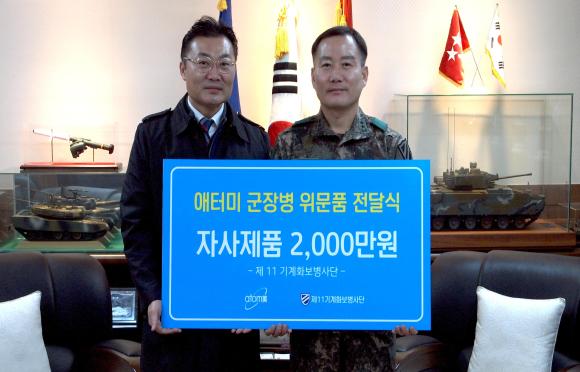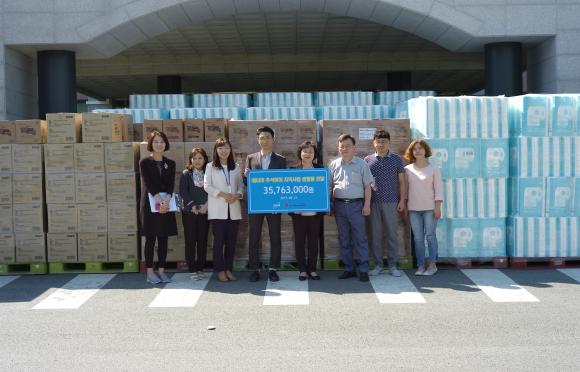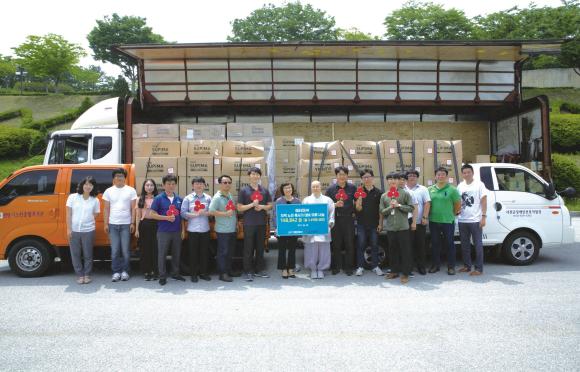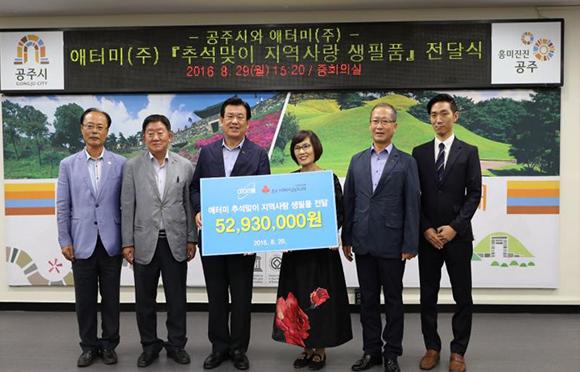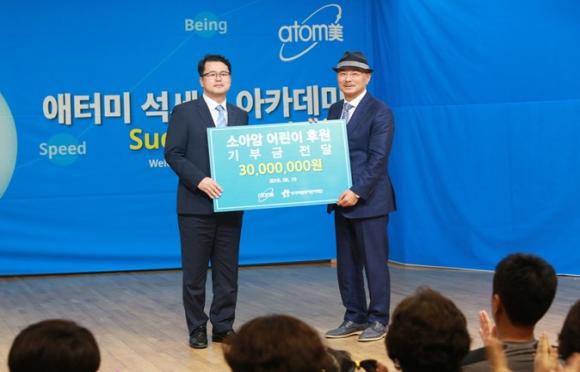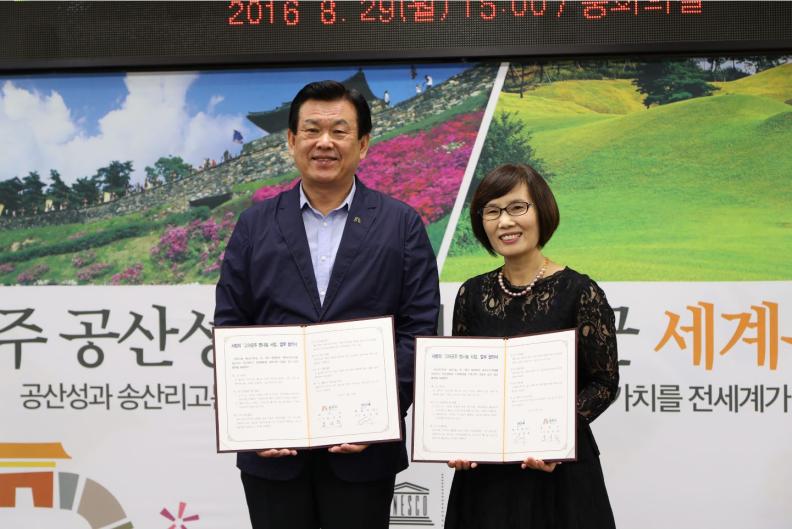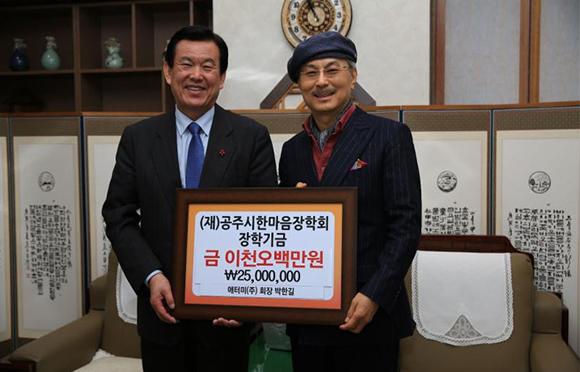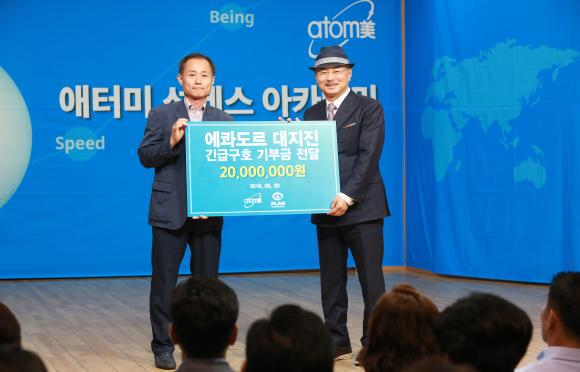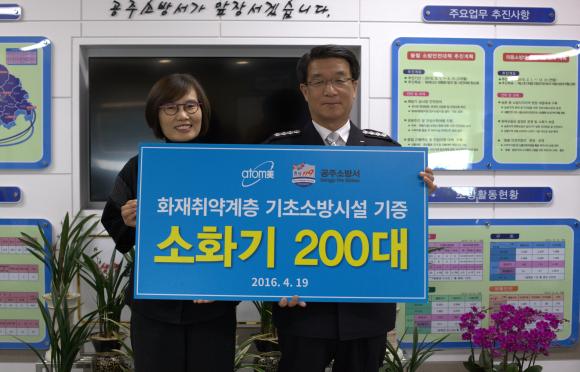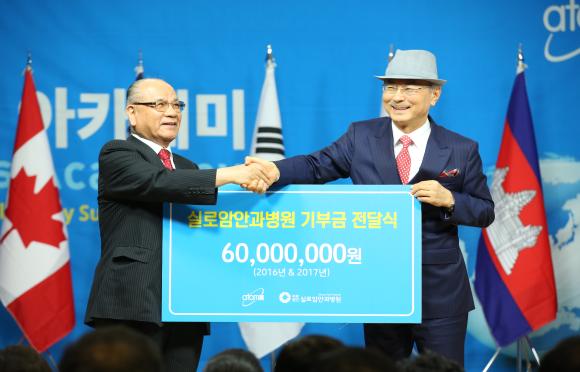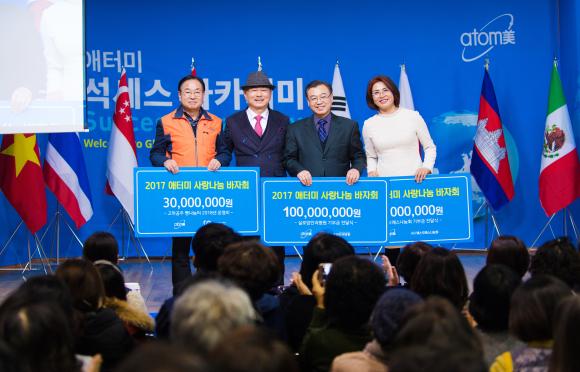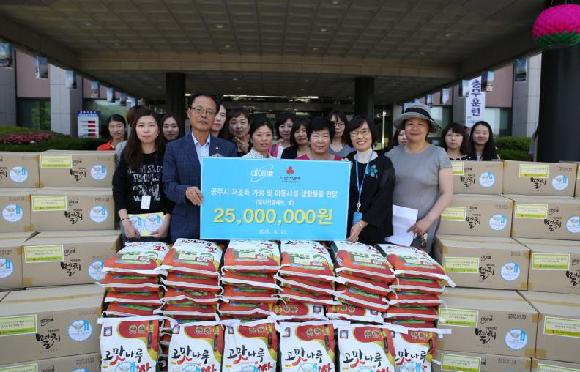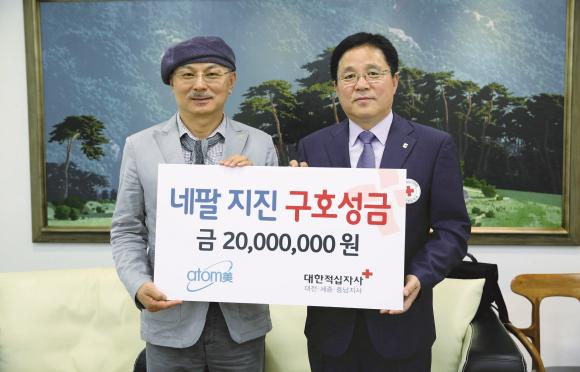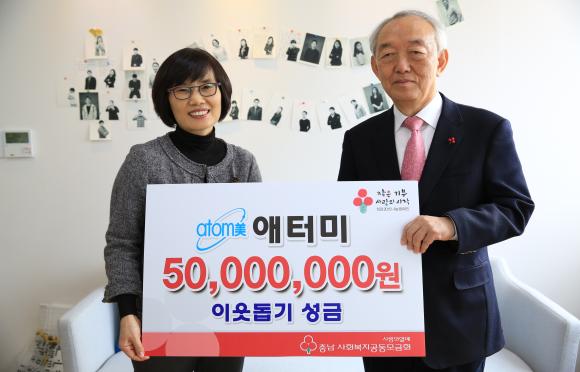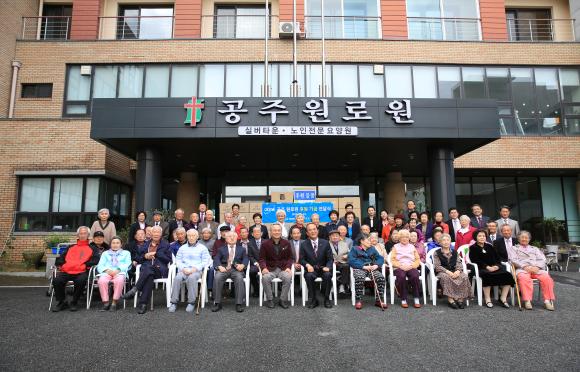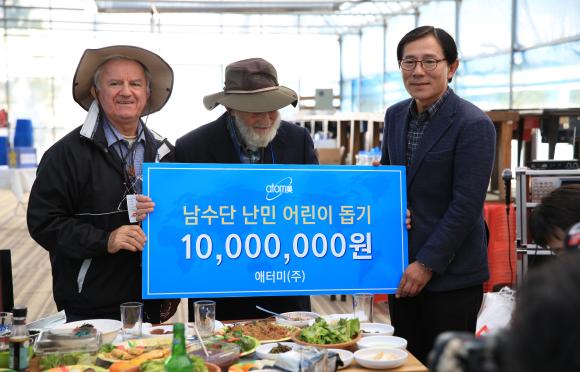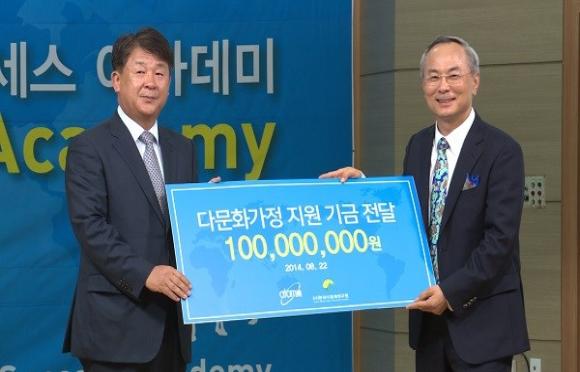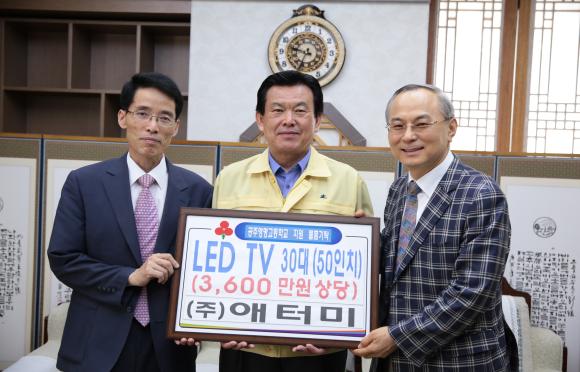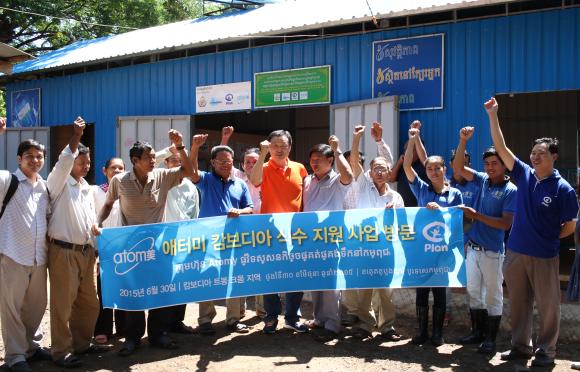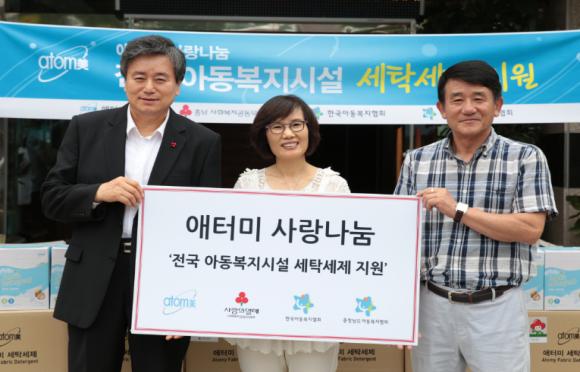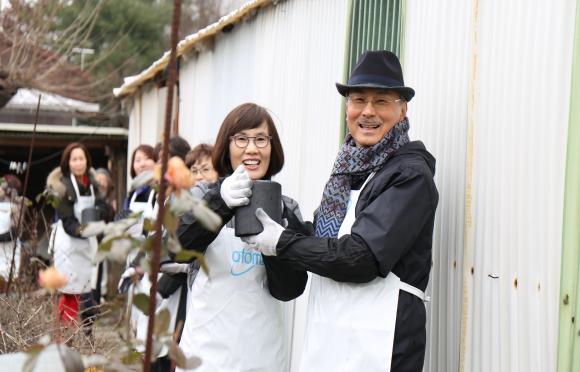 Donated KRW 200 million to purchase a call taxi for the disabled in Sejong City.
Atomy donated 200 million won to Sejong City for the purchase of a call taxi for the disabled people for improving their convenience. This fund will be used to purchase special transportations with wheelchair boarding facilities.
Donated KRW 14 billion to Compassion Korea.
Atomy donated 14 billion won to Compassion Korea, the international child care organization. This donation will be used for children in Asia, Latin America, and Africa who are suffering from COVID-19, civil war, and earthquakes.
Danated KRW 100 million for forest fires in Uljin and Samcheok
Atomy donated 100 million won emergency relief donations to recover from forest fires in Uljin and Samcheok, where are suffered by forest fires. This donation was used to help repair and extinguish forest fires.
Established the Young Leaders Club Volunteer group.
Th opening ceremony of a volunteer group of Atomy Yound Leaders Club, which consists of Atomy members in their 20s and 30s, was run out. They will work with Atomy headquarters for volunteer activities including supplying Atomy products to 8 Korean local welfare institutions.
Donated kimchi and 300 million won worth of briquettes.
Atomy held annual event, sharing kimchi of love and briquettes. Atomy donated 2,000 boxes of Atomy Myungjang kimchi to low-income families in Gongju and 300,000 briquettes to 10 regions nationwide.
Donated $10 million to Compassion Korea.
Atomy has donated $10 million to Compassion Korea, a global child rearing organization. The sponsorship fund will be used for children around the world to help to overcome poverty and find their lost dreams.
Donate 3 million anti-droplet face mask to the underprivileged
Atomy donated 3 million masks to small business owners and underprivileged suffering from prolonged pandemics through the Chungnam Red Cross and Hope Bridge Korea Disaster Association.
Donated 50 million won for local welfare in Cheonan-si
Atomy donated 50 million won for the welfare work of where perform welfare services for emergency fund and medical expenses for the vulnerable.
Donate 1-ton refrigeration van to Gongju City.
The refrigeration van operated by the Gongju City's Self-Support Center has burned down in a fire of unknown cause in mid-June. Atomy donated a new refrigeration van to Gongju City and it will carry foods and household goods to the underprivileged like underfed children and senior citizens.
Agreement to support children from low-income families in Anseong-si
Through a business agreement with Anseong-si, Gyeonggi-do, we plan to support children from low-income families by KRW 100 million annually for three years. We will donate KRW 30,000 per month to 261 low-income children living in the city through the government-supported Didim Seed Account(Child Development Account).
Support for lunch box project for small business owners and the underprivileged
Atomy joined the lunch box project to help small business owners and the underprivileged who are struggling due to COVID-19. In April and May, we donated a total of KRW 150 million to the Daejeon Sejong branch of the Korean Red Cross.
KRW 100 million support for citizen communication space in Gongju-si
Atomy donated KRW 100 million to 'Duruduru,' a citizen communication space in Gongju, which is operated by the Community Chest of Korea. Duruduru encourages the disabled to participate in social activities and is open to local residents. As Goma Gongju Bakery business has developed into 'Durudru,' Atomy supported the moving and operating expenses.
Donation of Mobile Medical Buses to Cambodia
Atomy donated Mobile Medical Buses to support Cambodia's healthcare service. We also signed an agreement to donate KRW 500 million yearly for the next decade to cover the operating costs. In April 2021, these mobile hospitals on wheels will arrive and provide medical service in Cambodia.
Support for Unmarried Teenage Mothers
Atomy donated KRW 200 million to Linker to support unmarried teenage mothers on February 19, 2021. Linker will protect single-parented families in crisis, provide educational programs on economic independence, support expenses of living, medical care, and housing, and improve the awareness of unwed mothers.
Product Donation to the Underprivileged in Sejong-si
For Lunar New Year holiday, Atomy donated KRW 89 million worth of clothes and daily necessities to the underprivileged in Sejong-si.
Donation of Do-Dream Campaign Fund to Save the Children
Do-Dream Campaign, 2020, raised KRW 320 million, which was donated to Save the Children. The fund will support the cost of medical treatment and living of children cancer patients under 18, living in South Korea, and in urgent need.
Donation of 2500 Boxes of Kimchi to Gongju-si
On 26 November, Atomy donated 2500 boxes of kimchi (8kg each, about USD 6,400) to Gongju-si. The city is going to distribute the kimchi to low-income families in the area.
Donation of KRW 1B for Severe Rain Damage Repair
Atomy donated KRW 1 billion to the Community Chest of Korea for heavy rain damage repair.
Han-Gill Park and Gyeong-Hee Do, Chairman and vice Chairman of Atomy consecutively, said, "We want to help the flood victims who are facing difficulties due to typoon that followed heavy rain. We hope the fund to be used to help the victims' lives to go back to normal."
Transportation Support for Western Daejeon NCPA
To support the national protection service, Atomy donated a fund for purchasing vehicles to the National Child Protection Agency in Western Daejeon. Atomy hopes this donation would help improve the mobility of the institution as it is vital in carrying out their child protective missions.
Donation to Save the Children for Supporting Post-CPS Teenagers & Child Victims of Sexual Offense
Atomy donated a total of 435.7 million KRW to Save the Children, including 200 million KRW for supporting teenagers after Child Protective Services and around 200 million KRW for supporting child victims of sexual offenses. The donation ceremony was held in an"untact" way through a video conference to respect the social distancing movement due to COVID-19.
Donation for Construction of Public Children's Rehabilitation Center in Jeollabuk-do
The donation ceremony for the construction of Public Children's Rehabilitation Center was held in Atomy Park in Gongju. With Han-Gill Park, Atomy's Chairman, and Chul-Seung Kim, the director of Jesus Hospital in Jeonju present, Atomy promised to donate 2.7 billion KRW for the establishment of the rehabilitation hospital for children with disabilities, which will have four floors above ground and one underground.
1% of May Sales to be Donated to Support Children
As a part of Atomy's Love Sharing project, Atomy donates 1% of May Sales to the children who need protection and care. Through the Love Sharing Project, we will use about 1.4 billion KRW (about 1.2 million USD) worth of money and products on five programs: providing vehicles to the Korean Child Protective Services, supporting post-Child Protective Service independent-living for adolescents, funding the establishment of a child rehabilitation center, supporting the child victims of sexual offense, and providing sanitary products to female teenagers who are the victims of sexual exploitation.
Support for Jesus Hospital
March 26, 2020, Atomy and Jesus hospital signed a mutual cooperation agreement. An agreement ceremony took place in the Jesus hospital Medical Museum with Han-Gill Park, the Chairman of Atomy, and the director of the hospital present. The agreement is about ▲ a joint effort on education, research, and policy development of healthcare ▲exchange of information and technology on the management of medical institute ▲ exchange of human resources, material resources, and educational materials. Chairman Park donated a development fund to the Jesus hospital in celebration of the start of the joint effort of the two parties.
Donation of funds and products to help fight the COVID-19
In February 2020, Atomy donated 100 million KRW to the Daegu branch office of the Community Chest of Korea for the cause against COVID-19. And on March 6, 2020, Atomy donated 150 million KRW worth of products, including Deep Sea Water and Orange juice, to Daegu city and Gyeongsangbuk-do Province, where many cases of COVID-19 were confirmed.
Love-Sharing Donation of Refrigerators to Gongju-si
To spread love and warm heart to our neighbors in need, Atomy donated 34 refrigerators and freezers worth 33 million KRW to Gongju-si. The refrigerators are distributed to the community centers, the Basic Food Bank, and Goma Gongju Bakery, and will be delivered to low-income families through Gongju City's supporting low-income family program.
Love Sharing Flea Market with Gongju-si
November 30th, 2019, Atomy held the Love Sharing Flea Market at the Atomy Park with the local community and Atomy's employees and partnering companies. With two thousand people, including Atomy members and neighbors attending, used goods donated by Atomy employees, local specialties, and food made with Atomy products were on the market. About 180 million KRW was raised through the event and donated to the Goma Gongju Bakery, welfare facilities of Gongju-si and Chungcheongnam-do, and SOS Sharing Group - an Atomy members' charity foundation.
Scholarship fund for Incheon Human Resources Development & Scholarship Foundation
On November 29, Atomy donated 100 million KRW to Incheon Human Resources Development & Scholarship Foundation during the Incheon MICE Fiesta. The fund will be used to support 100 students from Incheon who go to the universities outside the Incheon; 1 million KRWs for each to support their settlement.
Donor-Advised Fund for single mothers
In June 2019 Atomy donated KRW 10 billion to the Community Chest of Korea to support single mothers. This donation will be used as the fourth Korea Donor-Advised Fund. A Donor-Advised Fund allows the donor to have a direct say in fund operations—this avoids challenges with starting an independent charity foundation. Through this donation system, all funds are used in operation costs for the project while cutting unnecessary costs (i.e., personnel expenses). This model also allows the donor to utilize the full strength of the Community Chest of Korea. Atomy plans to create an organized support system to help single mothers become economically independent so they can set goals and follow their dreams.
Atomy Run
Atomy Run is held every year in Gongju City, South Chungcheong Province where Atomy's headquarters is located. Approximately 7,000 people participate annually in this event featuring 5K and 10K marathon courses. 500 million KRW of proceeds from Atomy Run kits and food booths is donated each year to the Community Chest of Korea, Choongnam Cultural Foundation, and to regions where Atomy's Success Academies are held. Atomy will continue to pave the way for a healthy sharing culture through Atomy Run, in which Atomy's employees, members and partnering organizations can participate together.
Care Packages to Military Servicemen
On December 18, Atomy delivered care packages to military servicemen who were hard at work securing our national defense. Atomy visited the 11th Mechanized Infantry Division to offer encouragement, and we delivered 20 million KRW worth of Atomy products.
Local Community Chuseok Sharing of Daily Supplies
On September 21, Atomy delivered 35,763,000 KRW worth of products including 600 boxes of ramen, 600 Slim Body green tea shakes, and 2,400 sets of Atomy tissues during an event called "Local Community Chuseok Sharing of Daily Supplies." Atomy's gifts were equally distributed among 25 organizations and to low-income families within the 16 districts of Gongju City.
Shirts for Summer
On June 27, Atomy donated 360 million KRW worth of men's undershirts to 15 senior welfare centers in South Chungcheong Province. The shirts were given out to 30,100 low-income seniors in preparation for the hot summer in hopes of helping them cope with the heat.
Sharing of Daily Supplies for the Holidays
Atomy donated daily supplies worth 51 million KRW to disadvantaged members of the Gongju-si during the Chuseok holiday in 2015. To continue the momentum, Atomy donated 52 million KRW to Gongju-si and 17 million KRW to Boeun-gun and Jochiwon-eup in Sejong-si in 2016.
Donation to Children with Cancer
Atomy donated 30 million KRW to children suffering from leukemia and other forms of cancer.
Goma Gongju Bakery Sharing Project
Atomy has signed an agreement with the city of Gongju to offer baked goods to children from low-income families. Atomy funded the construction of the bakery as well as the operational costs for the project.
Gongju City One Heart Scholarship Fund
In 2014, Atomy donated 25 million KRW to help hard-working students in financial hardship. In 2016, Atomy donated 50 million KRW in scholarship funds in hopes of raising up future leaders of Gongju City.
Relief Funds for Ecuador Earthquake
Atomy donated 20 million KRW in relief funds for the earthquake in Ecuador. We hope this small donation contributes in restoring the damage in Ecuador.
200 Fire Extinguishers for Gongju Fire Station
In 2016, Atomy donated 200 fire extinguishers, doubling the number from the previous year.
Establishment of Siloam Eye Hospital Academic Research Center and Support for Eyesight Recovery
Atomy has supported Siloam Eye Hospital's medical mission activities for the underprivileged in Korea and overseas since 2016. Siloam Eye Hospital is a Christian hospital specializing in ophthalmology that offers free eye treatments and support for eyesight recovery operations for low-income families. It also runs a free mobile eye treatment project in poor neighboring countries. Since its establishment in 1986, the hospital has prevented the loss of sight for over 1 million patients by offering free eye treatments and has helped approximately 35,000 patients to see again.
Support and Partnerships
2016~2017

Atomy members and employees raised 160 million KRW through various activities, including the Love Sharing Flea Market, to help support eyesight recovery operations and medical expenses. Thanks to donations in 2016 and 2017, 300 patients recovered their sight. Because 30 million KRW of the donations were personally raised by Atomy's Royal Leaders Club (160 million KRW), this project is one that we are very proud of (160 million KRW)

2018

Atomy signed a partnership agreement with Siloam Eye Hospital, and 1 billion KRW was donated to build an academic research center. The center will study currently incurable eye diseases. Research for optic atrophy, macular degeneration, corneal opacity, and retinitis pigmentosa will also be conducted (1 billion KRW)

2018~2027

Atomy plans to donate 100 million KRW per year to Siloam Eye Hospital over a period of 10 years, totaling 1 billion KRW, which will be used to support eyesight recovery operations and medical expenses (1 billion KRW)
Through this partnership, Atomy members will also receive benefits including access to the hospital's exclusive reservation system. As medical experts at Siloam work to help the blind gain sight, Atomy will continue to share our love so that others can realize God's love.
Reservation and consultation for Atomy members: 02-2650-0780
[Siloam Eye Hospital website] http://siloam.co.kr/
Love Sharing Flea Market
Atomy's Love Sharing Flea Market has been held annually since 2016, and it has taken place in the headquarters and education centers that are willing to participate. We have donated the funds raised to various charities including the Community Chest of Korea, Siloam Eye Hospital, and SOS Sharing Group through 1:1 donation matching system. From 2016 to 2018, a total of 470 million KRW was raised and donated. A variety of items such as household items, medical supplies, cosmetics, books, and electronics are donated by Atomy members and employees who also help prepare and cook food items to sell. Atomy members and nearby residents flock to our Love Sharing Flea Markets across Korea. The event will be held every year as a place to warm the heart.
Sharing of Food in the Gongju Area
Sharing of Food in the Gongju AreaAtomy held a community sharing event at Gongju City Hall. 25 million KRW worth of foods such as white rice and anchovies were given to 920 underprivileged families and to 9 local children's centers.
Relief Funds for Nepal Earthquake
Atomy donated 20 million KRW in relief aid to Nepalese refugees suffering from damages from the earthquake.
Hope 2015 Sharing with Underprivileged Neighbors
Atomy donated 50 million KRW with the hope that our neighbors would stay warm during the coldest months of the year.
Funding for Senior Citizens' Welfare Facility
Atomy donated 120 million KRW to a senior citizens' welfare facility located in Gongju City. This has greatly benefited the elderly in receiving professional medical and welfare support.
Funding for Children of Southern Sudan
This is the second time since 2012 that Atomy has participated in supporting a project to build 100 schools for the children of Southern Sudan. Though this is a small contribution, we hope the donation will assist with the costs of building schools so that the children can heal from the wounds and pain of civil war as quickly as possible.
Funds for Multicultural Families
Atomy has promised to support the Korean Multicultural Institute for a period of five years to help Korea develop into a more healthy multicultural society. Through this small contribution, we hope more people will come to understand and accept multicultural families.
Educational Resources for Yeongmyeong High School
Atomy has agreed to a sister relationship with Gongju Yeongmyeong High School. To practice our love for the local community, Atomy has donated educational resources, thirty 50-inch TVs, to the school.
Funds for Cambodia Water Purification Project
Residents living in marginalized regions of Cambodia are becoming sick due to lack of clean drinking water. Atomy has donated 100 million KRW to assist with building wells and for water purification projects.
Laundry Detergent Donations
Atomy donated laundry detergent to 261 children's welfare facilities across 15 cities and provinces. We hope that children involved with the Children's Welfare Association will benefit from this basic necessity.
Love Briquette Sharing
The Love Briquette Sharing event has been held annually since 2014 in various locations around Korea including Gongju City, where Atomy headquarters is located. About 300 volunteers including Atomy members, employees, and others participate in this sharing activity. Approximately 300,000 briquettes of coal for fuel, worth 190 million KRW, are donated each year.